Air Conditioning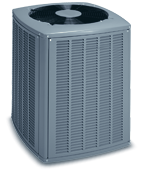 A&Z Mechanical, Inc provides air conditioning service and repair to Colorado Springs and its surrounding areas. Our HVAC technicians are highly trained to ensure that our customers stay cool in the hot summer months.
Air Conditioning Installation in Colorado Springs
Beat the summer heat with a new air conditioning system or optimize your existing system for energy efficiency. A new heating and cooling system will last for years, reducing your energy bill each and every month you have it. Our experienced comfort advisors in Hickory and Asheville will evaluate your current system and make recommendations and offer you choices for your home. A&Z Mechanical, Inc is proud to offer affordable and reliable air conditioning systems and AC repair in Colorado Springs.
AC Repair for Colorado Springs
Our technicians are well trained to diagnose your system's issues and develop a cost effective plan of action. In most cases, the cost of replacing an old system with one of our energy efficient air conditioners will pay for itself over the life of the system. New technologies offer energy savings and convenient options for your comfort.
Whether it's time to install a new air conditioning system or you need maintenance on your existing AC unit, call us today for an estimate. You can trust A&Z Mechanical, Inc for all of your air conditioning service needs. Call 719-599-5447 to find out about all the air conditioning services we offer!